June 25, 2018 at 1:00 PM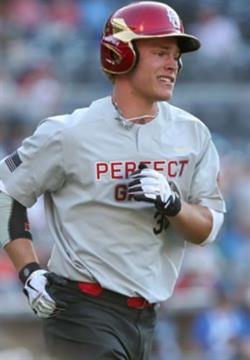 Here are Monday's minor league notes:
The SoxProspects.com 2018 Donation Drive is going strong, and we are about half way to our goal of $8,000 with about six weeks to go. Thank you to those who have already donated, and if you have not, please consider reading Editor-in-Chief Mike Andrews' blog post linked above.
With many of the draft signings being wrapped up early, it means that the 2018 draft picks are starting to see the field for the first time as professionals. There were a handful of big debuts this past week led by first-rounder Triston Casas, 11th-rounder Nick Northcut, and 21st-rounder Brandon Howlett.
Casas was at Fenway Park over the weekend, and he talked with WEEI's Rob Bradford about why he thinks his swing is perfectly suited for Fenway.
Second-round pick Nick Decker (pictured, above) should not be far behind, as he was one of several players to officially agree to terms late last week. Decker signed for $1,250,000, which is $239,500 over the slot allotment for the 64th pick. Other signings include Elih Marrero, Brandon Howlett, Ryan Fernandez, Caleb Ramsey, Connor Berry, and Yusniel Padron-Artilles, while Kevin Biondic was signed as an undrafted free agent. Be sure to check out the SoxProspects.com Draft History page for a full listing of the draft picks and bonuses.
The Red Sox changed the roster construction a bit last week as they swapped out a reliever for a position player with Robby Scott being optioned down to Pawtucket and Tzu-Wei Lin (pictured, below) being called up to Boston. Lin has been a strong contributor for the PawSox this season, slashing .299/.350/.445.
After allowing only five runs over 28 innings with 33 strikeouts in Salem, Matthew Gorst was promoted to Portland. The 23-year-old is getting his first taste of the upper minors which will be a good test for the former 12th-round pick. To make room for Gorst, Portland sent Kevin McAvoy down to Salem. McAvoy spent the 2016 and 2017 seasons in Portland and showed decent progress last season after a rough first season with the Sea Dogs, but things have fallen apart for him this year as his ERA sat at 8.73 after 33 innings.
Enmanuel De Jesus has been bouncing around between Greenville and Salem all year, and after staying for only two starts in his most recent stint with Salem, they sent him back to Greenville where he started on Friday. In all, he has had three stints with the Drive and two with Salem this season.
The Red Sox released two players from the DSL roster last week, with Angel Sosa and Geraldo Perez leaving the DSL Red Sox1 and DSL Red Sox2, respectively. Sosa was just signed last year, but he gave up 17 runs and walked 19 in his first 5 1/3 innings.
In the latest stadium drama with the PawSox, Rhode Island lawmakers passed legislation that would forfeit up to $38 million in city and state taxes on a new stadium and its surrounding area to help keep the PawSox in the state.
Similar to the major league rotation, the Portland rotation is heavily left-handed. Kevin Thomas of the Portland Press Herald talked with Matt Kent, Kyle Hart, and Dedgar Jimenez, as well as Sea Dogs pitching coach Paul Abbott, about how the lefties need to be crafty in order to succeed as that trio does not have overpowering fastballs.
Thomas also talked to Portland's new outfielder Johnny Bladel who was signed out of the independent leagues. Bladel described the long journey that brought him to affiliated ball and what it feels like to now be part of the Red Sox organization.
Players of the Week
4 G, 18 AB, 9 H, 3 2B, 1 HR, 4 R, 5 RBI, 0 BB, 3 K, .500/.500/.833
A great four-game stretch culminated in a trip to Boston for the 24-year-old, though he could not keep that success going for the Red Sox as he went 0 for 4 with an error. This is the second Player of the Week award of Lin's career, as he has really remade himself after struggling offensively at the beginning of his career. He is hitting the ball with more authority and still playing good defense at shortstop, which will make him a useful asset in a utility role.
2 G, 5 IP, 0-0, 0.00 ERA, 2 H, 0 BB, 6 K, 0.40 WHIP

Two strong relief appearances that saw him miss bats and keep the ball on the ground while not allowing a run was enough to give Martin the nod in a tight race. This is the first time Martin has won the Pitcher of the Week award in his six years in the system, and the 50th-ranked prospect extended his scoreless streak to 10 2/3 innings. Martin appeared in two games for the Red Sox last season, but he was dropped from the 40-man roster at the end of last year, and he is doing his best to earn his way back on.


Photo Credit: Nick Decker by Perfect Game USA and Tzu-Wei Lin by Kelly O'Connor