January 23, 2023 at 1:00 PM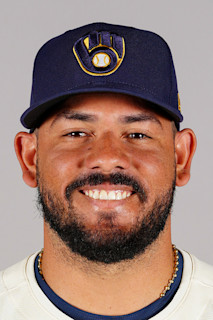 The winter leagues are almost over, but a few players still got a chance to offer postseason heroics. Next week all eyes will be on
Norwith Gudino
in Venezuela as his team plays for the championship.
Roberto Clemente Professional Baseball League
Carolina has a 3-2 series lead over Mayaguez and is one game away from a championship.
Matthew Lugo
was one of two players named the LBPRC Rookie of the Year, and recent signing
Edwin Diaz
was named the LBPRC MVP. Lugo hit
.275/
.360/
.450
with six home runs in 120 at-bats, while Diaz hit
.229/
.375/
.418 with eight home runs in 153 at-bats. Both players helped lead Caguas to a first-place regular season finish.
Dominican Professional Baseball League
Jorge Alfaro (pictured), signed as a minor league free agent on January 16, led his team to a title. He only had 21 regular season at-bats for Licey but was ultimately named MVP of the LIDOM championship series. In the round-robin portion of the playoffs, he hit
.383/
.471/
.633 with two home runs in 60 at-bats. He turned it up another notch in the championship series, hitting
.417/
.417/
.667 with another home run.
Venezuelan Professional Baseball League
Norwith Gudino appeared in two games as he helped propel Caracas to the championship series. He threw a scoreless inning in his first outing and then earned the win with 3 1/3 shutout innings in his second appearance. The final series against La Guaira kicks off on Monday.
Colombia Professional Baseball League
Ronaldo Hernandez's Cartagena club lost the championship series to
Montería.
Panama Professional Baseball League
There are still no statistics available from Panama. Yusniel Padron-Artiles and Eduardo Vaughan are active in the league.
Photo Credit: Jorge Alfaro by MLB.com