July 11, 2021 at 7:33 PM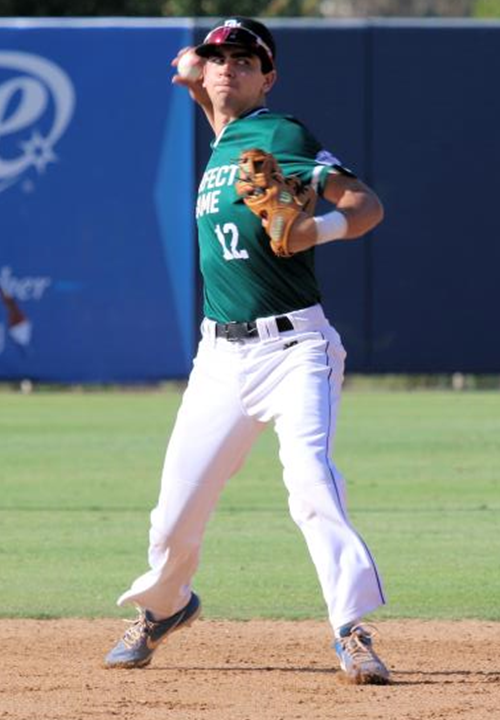 With the 4th-overall pick in the 2021 MLB First-Year Player Draft, the Red Sox selected Marcelo Mayer, a shortstop from Eastlake High School in Chula Vista, Calif.. Mayer is ranked 2nd in the draft class by Baseball America, and 1st by MLB.com and Perfect Game USA.

Mayer was projected by many mock drafts to go first-overall to Pittsburgh in the weeks leading up to the draft, but the late shake-up of Henry Davis of Louisville going first overall set off a chain of events allowing the Red Sox to select the young shortstop with the fourth pick. As a result, the Red Sox selected their second California high school infielder in the first round in as many years after taking Nick Yorke out of San Jose-area Archbishop Mitty last year.

Mayer comes from one of the top high school programs in the country, which also produced former Red Sox first baseman Adrian Gonzalez and 2019 first-round pick Keoni Cavaco of the Twins. On teams' radars since sharing an infield with Cavaco, he has been viewed as a top-ten draft prospect for the entirety of the draft cycle, ranking in that range as far back as last fall thanks to a coveted combination of performance and potential.
Mayer has offensive skills that teams covet, profiling as a plus left-handed hitter (who gave up switch-hitting after the eighth grade) with potential above-average power. Despite little to no stride in his setup, his strong forearms and wrists allow him to drive the ball from gap to gap, and with a change in his swing, scouts believe he could unlock even more power. His approach also matches, with an advanced ability to read pitches and has great barrel control to cover the entire zone.

Defensively, 6-foot-3 Mayer is one of, if not the top prospect in the draft. He has a rocket arm, silky smooth actions, and hands and footwork that leave little doubt he will stay at the position. Despite his defensive ability, he is an average runner, one of the few areas in his game not to grade out as above-average or better, but not one that should hold back his offensive or defensive potential. His athleticism stands out—he was a standout soccer player before giving the sport up to focus on baseball after the eighth grade—and his father is a former college baseball player.

This is Boston's highest selection since 1967, and Mayer's his elite potential on both sides of the ball should excite all Red Sox fans, as getting arguably the top player in the draft with the fourth pick has to be considered a steal. Given that Mayer was seen as a potential 1-1 pick, the Red Sox may need to go above their $6,664,000 slot for the fourth pick to sign Mayer, but they will likely do so gladly.

Scouting info was compiled from industry publications including Baseball America, Perfect Game USA, ESPN, FanGraphs, The Athletic, and MLB.com.

Photo Credit: Marcelo Mayer by Perfect Game USA.

Will Woodward is a Co-Owner and Senior Staff Writer for SoxProspects.com. Follow him on Twitter @SPWill.