June 12, 2017 at 11:21 PM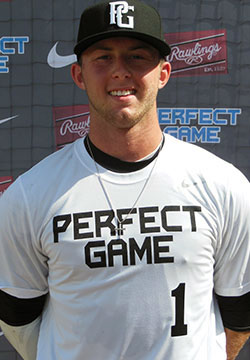 With their second round pick (63rd overall), the Red Sox select
Cole Brannen
, an outfielder out of The Westfield School in Perry, Georgia. Brannen was ranked 54th by
Baseball America
, 68th by
MLB.com
, 46th by
Perfect Game USA,
and 40th by
ESPN
's Keith Law.
Coming in at 6-foot-1, 180 pounds, Brannen is universally praised for his athleticism and
Perfect Game
grades his speed as plus-plus. Power is not a huge part of his game nor is it projected to be going forward according to
Baseball America
, but they spoke highly of his bat speed and bat to ball skills, including the ability to take pitches the other way. Despite Georgia being a treasure trove for high school outfielders over the last decade or so,
Baseball America
says that Brannen has not faced much high-end pitching this spring and thus his approach is still in need of development. He also missed time earlier this spring due to a broken hamate bone. Keith Law noted that he started slowly this spring, but looked like his old self as the year went on and he returned to full health.
All agree that he should stay in center field with a chance to be an above-average defender with good range, instincts, and an above-average arm for the position.
MLB.com
says that his ceiling is a center fielder who hits .270 with 15 home runs and 30 steals.
The 63rd overall pick has a slot value of $993,900, and while he is committed to Georgia Southern,
Baseball America
states that they expect him to sign.
Scouting info was compiled from industry publications including Baseball America, Perfect Game USA, ESPN, and MLB.com.
Photo Credit: Cole Brannen by Perfect Game USA.
Will Woodward is a Senior Staff Writer for SoxProspects.com. Follow him on Twitter @SPWill.