August 23, 2016 at 7:00 AM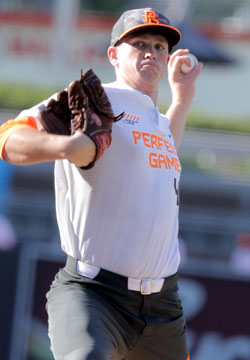 8/23 Cup of Coffee: Monday was one of the most anticipated days on the 2016 minor league schedule, as Jason Groome (pictured), the Red Sox top pick in the June draft, made his professional debut in the Gulf Coast League. Elsewhere, both DSL clubs punched playoff tickets, while Bobby Dalbec continues to power Lowell's pennant chase. Potential pitching reinforcements were on display, as Brian Johnson, Joe Kelly, and Brandon Workman were solid for Pawtucket and Portland.
-----
Brian Johnson was not quite as sharp on Monday as he was in his four previous starts, but still turned in a very effective outing. The left-hander needed 102 pitches to get through 5 1/3 innings, leaving with the game knotted at one. He allowed just the one run on five hits, walking three and striking out five. In 30 2/3 innings over his last five outings, Johnson has a 1.77 ERA and 1.01 WHIP. Austin Maddox got his first Triple-A win, throwing 1 2/3 shutout innings of relief. Joe Kelly was dominant in his two innings, striking out four without allowing a baserunner, and needing only 26 pitches to earn the save. Kelly, who struggled so mightily with his control during his stint as a major league starter, has not walked a batter in his eight innings since rejoining the PawSox at the beginning of August.
Marco Hernandez carried the PawSox offense. He had three of Pawtucket's seven hits, including a seventh-inning solo home run that proved to be the difference in the game. Ryan LaMarre was 2 for 4 with a double and run scored out of the leadoff slot.
-----
The Portland bats fell silent as a pair of Fisher Cat hurlers combined for a four-hit shutout. Unsurprisingly, Yoan Moncada proved to be a bright spot at the plate. He was 1 for 2 with a pair of walks on the night. He also got his third consecutive start at third base for the Sea Dogs. Teddy Stankiewicz turned in a quality start in a losing effort, allowing three runs on four hits in six innings, striking out six against three walks. Brandon Workman continues to work his way back after Tommy John surgery, making his second Portland appearance of his rehab. Monday's outing went much better than his previous one, as the 28-year-old righty allowed just one run on two hits in three innings, striking out two without a walk. The lone run came in the ninth inning when old friend Ryan Lavarnway (TOR) delivered a solo homer.
-----
It was a tough night for the Drive, whose playoff hopes are hanging by a fraying thread. Logan Boyd took the loss, allowing four runs on eight hits in five innings, striking out five without issuing a walk. The loss brings Boyd's record to 13-7. The 20 decisions are the most for a Greenville pitcher since Felix Doubront went 12-8 back in 2008.
At the plate, Jeremy Rivera continues his solid play in the second half. The shortstop had a big night, going 3 for 4 with two doubles, giving him 17 on the year. Since July 1 Rivera is hitting .333/.361/.457 with 14 extra-base hits. Tate Matheny had a pair of hits, while Austin Rei and Trent Kemp were 1 for 3 with a walk and run scored.
-----
Another day, another monster performance by Bobby Dalbec (pictured, right) to lead the Spinners. The third-round pick last June fell a double short of the cycle, going 3 for 5 with a home run, triple, two runs scored, and three RBI. Dalbec now has 17 extra-base hits in 23 games, and at least one extra-base hit in seven straight. He is now slugging a Ruthian .727 on the season. Not to be lost in Dalbec's surge is the continued fine play of Tyler Hill. He followed up Sunday's four-hit performance by going 2 for 4 with a walk and two runs scored. Chris Madera reached base four times, going 2 for 3 with two walks and a stolen base.
It was a good night for Boston's 2016 draft class, as Mike Shawaryn turned in a strong start. The fifth-rounder gave up a run on three hits in three innings, striking out three without issuing a walk. Daniel Zandona piggybacked, getting the win with five scoreless innings of relief. Zandona scattered three hits, striking out five while walking three. Jordan Weems delivered his third consecutive scoreless outing out of the Spinners bullpen, striking out two in a scoreless ninth.
-----
Almost six weeks after signing, Jason Groome made his professional debut in Fort Myers on Monday, The 12th overall pick and the top prospect available in the draft according to MLB.com and Perfect Game, Groome gave a hint of why he deserves such fanfare. After inducing a ground out to first base to the first batter he faced, the six-foot-six lefty then struck out the next three batters he faced. The lone blemish on his line was a two-out double in the second inning. In his two innings, Groome threw 19 of his 30 pitches for strikes. Per Alex Speier of the Boston Globe, he got seven swinging strikes: five with his fastball and one with his curve.
Groome did not just reinforce his own prospect status--he also helped the GCL Sox move into a tie for first place in the GCL South Division. Hildemaro Requena moved from the rotation to the bullpen in deference to Groome, but picked up the win in relief. He gave up two runs on six hits in four innings, striking out six without walking a batter. Requena has 45 strikouts against only six walks in 11 appearances.
The Red Sox offense supported Groome and Co. with an 11-hit attack. Undrafted free agent Steven Reveles was 2 for 3 with a walk, a steal, and two RBI, his fourth consecutive multi-hit game despite moving between Lowell and the GCL. Samuel Miranda delivered a sixth-inning solo home run as part of a 3-for-3 afternoon. Juan Barriento and Lorenzo Cedrola were both 2 for 4 with a double.
-----
The Red Sox1 squad got a little bit of help from Mother Nature to clinch a berth in the Dominican Summer League playoffs. After scoring single runs in the fifth, sixth, and seventh innings, the game was called due to rain at the start of the eighth. Starter Alejandro Rodriguez allowed two runs (one earned) on three hits in four innings, striking out four and walking one. Manuel Ramirez got credit for the win with three shutout innings. The Red Sox offense needed only four hits, benefiting from seven walks from a wild Phillies pitching staff. Ramfis Berroa and Kervin Suarez both had RBI doubles in the win.
The win clinches at least a wild card berth. With five games remaining, the Red Sox1 have a 3 1/2 game lead over the Royals affiliate to win the division outright. The top two division winners in the Dominican Summer League get a bye, and the Red Sox1 currently have the circuit's best winning percentage at .734, but are only a half-game ahead of the third and fourth best teams.
The other DSL affiliate did not need assistance from nature or any other outside source as they punched their playoff ticket with authority. Everlouis Lozada broke out of an 0-for-18 skid with a big day, going 3 for 4 with a walk, RBI, and two runs scored. Yeison Coca and Eduard Conde had two hits apiece for the Sox. Starter Jose Zacarias got the win, scattering three hits across five scoreless innings. Gregory Santos followed, striking out three in two hitless frames.
The victory gives the Red Sox2 an outright win of the Northeast Division. With the fifth-best record in the league, they will need some help to get a bye. They trail the Red Sox1 by only 1 1/2 games, but need to leap three teams to get there.
-----
Player of the Day:
Monday's biggest story was certainly Groome's debut, but top player recognition goes to the scorching-hot
Bobby Dalbec
. During his seven game hitting streak, Dalbec is 16 for 30 with five doubles, a triple, and four home runs - good for an absurd 1.167 slugging percentage. Currently ranked the #21 prospect in the system, Dalbec's status was one of many topics of conversation touched on in the most recent edition of the
SoxProspects.com podcast
.
Photo Credit: Jason Groome from Perfect Game; Bobby Dalbec by Kelly O'Connor