November 5, 2014 at 7:30 AM
Past entries in this year's Top 40 Season in Review series can be found here.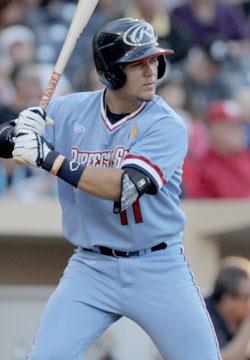 2014 Team: GCL Red Sox
Final Stats: 150 PA, .269/.347/.425, 12 2B, 3 3B, 1 HR, 15 BB, 38 SO, 5 SB
Links:
Season in Review: Chavis had a strong senior season this spring for Sprayberry Senior High School in Marietta, Georgia, where he hit an incredible .580/.663/1.197 over 81 at-bats with 13 home runs while only striking out 10 times. On the strength of that performance, he won the 2014 Gatorade Georgia Baseball Player of the Year and 2014 Perfect Game First-Team All-American honors. Scouts took notice, and coming into the 2014 draft, Baseball America had him ranked the 26th-best draft eligible prospect, while Perfect Game USA pegged him as the 20th. The Red Sox selected him with the 26th pick overall and were able to sign him out of a commitment to Clemson with a bonus of $1,870,500, equal to the slot value of that pick.
The 18-year-old was assigned to the Gulf Coast League and made his debut on July 5. Chavis struggled upon his initial assignment—over his first 13 games, Chavis hit only .093/.188/.163 in 48 plate appearances while striking out in more than a third of his plate appearances. This included a brutal stretch over his first 11 games where he went 2 for 36. However, he was able to start figuring out the league, and from July 28 through the end of the regular season, he hit .356/.426/.556 in 26 games, driving 13 extra-base hits in 101 plate appearances. In the meantime, Chavis was in the midst of a transition in the field: after playing his first nine games in the field at shortstop, he played 10 of his final 14 at third base. In the playoffs, consisting of a one-game semifinal win over the Cardinals and a two-games-to-one win in the GCL Championship Series against the Yankees, Chavis got on base in all four games and drove in six runs. In championship clincher, Chavis went 1 for 5 but drove in three runs, including a two-run home run in the eighth to seal up the championship. - Will Woodward
Scouting Report and 2015 Outlook: Chavis got off to a slow start, but once he adjusted to professional ball, he settled in and started to show why he was a first-round pick. Chavis does not have a prototypical frame at an undersized 5-foot-10, 190 pounds, and is pretty maxed out physically, with a strong core and thick lower half. His calling card as at the plate, where Chavis has the potential to have at least average hit and power tools. Chavis uses a slightly open stance with his hands high and a wide base. He tracks the ball well and has quick hands that generate plus bat speed, really whipping the bat through the zone. His swing can get on the long side, but when he stays short to the ball, his natural hitting ability is evident. Defensively, Chavis started out this year as a shortstop, but was moved to third base during the season, which looks to be a permanent move. During the Fall Instructional League, Chavis showed plenty of arm at third base, the tool grading as plus, and solid footwork, especially when charging the ball. Long term, Chavis does not have a prototypical third baseman's frame, and some evaluators have questioned whether or not he can stay at the position long-term, suggesting a move to second base, first base, or even the outfield. Based upon what I saw in Instructs, he could develop into at least an average defender at third. Chavis is an average to solid-average runner, but his speed plays up on the basepaths due to very good instincts. 2015 marks Chavis's first full-season with the organization, and based on his advanced ability at the plate he should break camp with Greenville, where he will get his first exposure to full-season ball. - Ian Cundall
Additional editorial support provided by Norm Cimon.