October 16, 2014 at 8:00 AM
For the next five weeks, SoxProspects.com will count down its end-of-season top 40 prospects, recapping their seasons and looking at what's ahead for them in 2015. You can find all of the entries in this year's series here.
2014 Teams: Salem Red Sox, Portland Sea Dogs
Final Stats: 130 1/3 IP, 10-6, 1 SV, 2.35 ERA, 107 H, 39 R/34 ER, 39 BB, 107 K, 1.12 WHIP
Links:
Season in Review: After a solid 2013 season with Greenville, Haley pitched well right out of the gate with High-A Salem, splitting his time between starting and relieving early in the year before forcing his way into the rotation for good in June. An area of immediate improvement for Haley was his ability to limit walks. After allowing more than five free passes per nine innings with the Drive last season, Haley cut that mark by more than half in his time with Salem. In 92 2/3 innings, Haley was 7-4 with a 2.82 ERA, allowing just 77 hits and posting a career-high 3:1 strikeout-to-walk ratio. The 23-year-old right-hander continued his fantastic season after a promotion to Portland by going 3-2 with a 1.19 ERA in six starts to round out the season. While continued to limit hits, his walk rate did creep back up, as he allowed 16 in 17 2/3 innings. However, 10 of those free passes came in two starts, and Haley went at least six innings in each of his starts with Portland. - John Gray
Scouting Report and 2015 Outlook: The tall right-hander gets good extension through his delivery, making the fastball that sat in the low-90s jump on hitters and appear much faster out of his hand than a radar gun would make it seem. His slider and changeup have also improved greatly since his debut campaign in Lowell. Most importantly, Haley made significant strides with his control, cutting his walk rate in half this season. Haley should return to Portland for the beginning of 2015, where he will bide his time before likely eventually joining what will continue to be a crowded rotation in Pawtucket. He might be destined for the bullpen, where his fastball will play up even more and he will be able to focus on using one off-speed pitch, but he should be given the chance to start into 2015. - Jon Meoli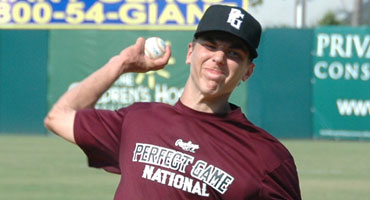 2014 Teams: GCL Red Sox
Final Stats: 16 IP, 0-1, 2.25 ERA, 7 H, 7 R/4 ER, 11 BB, 16 K, 1.125 WHIP
Links:
Season in Review: Initially an outfielder at Duke, Cosart transferred to Seminole State after redshirting his freshman year to convert to pitching. Following in the footsteps of his older brother Jarred, a former Top 100 prospect who has pitched for Houston and Miami, Jake showed enough in his first season as a full-time pitcher that the Red Sox made him their selection in the third round of the draft this June. After making his debut with the Gulf Coast League Red Sox in late July, Cosart went 0-1 with a 2.25 ERA in 16 innings, spanning seven starts on a small pitch/inning limit. While the 6-foot-2 hurler struck out a batter an inning, he also allowed 11 walks. - John Gray
Scouting Report and 2015 Outlook: Cosart was one of the standout performers during my trip to Fall Instructs recently, showing off improved secondary offerings and the impressive arm strength that led to his high selection. Cosart is a solid athlete with a projectable frame, listed at 6-foot-2, 175 pounds. His delivery is rough, very arm-heavy with minimal use of his lower half. With this in mind, Cosart's ability to generate velocity out of his three-quarters arm slot is even more impressive, as it comes from raw arm strength. Cosart's fastball sits 93-95 mph with plus life and sink. The ball jumps on hitters, and its easy velocity. Cosart's curveball was reportedly significantly ahead of his changeup during the junior college season, but at Instructs, he showed a much-improved changeup. It worked at 82-83 mph with similar arm speed to his fastball and late fade and drop. His curveball worked 71-74 mph with sharp 11-5 break and depth in the upper velocity of that range. Both pitches flashed plus in the outing, and his ability to carry those improved offerings into next year is key for his development. Cosart also threw one pitch that looked like a short slider, and whether or not that is a pitch he has in his arsenal or just a changeup that he cut is something I will look for next season.
Cosart is a low-mileage arm who is relatively new to pitching and pitched sparingly in the GCL this season. With that in mind, it would not shock me if the Red Sox went the conservative route and started him off in extended spring training and assigned him to Lowell. That said, based on what I saw at Instructs, that level would pose little challenge to him, and thus I expect him to start off 2015 in Greenville. - Ian Cundall
Additional editorial support provided by Norm Cimon.