July 3, 2014 at 10:24 AM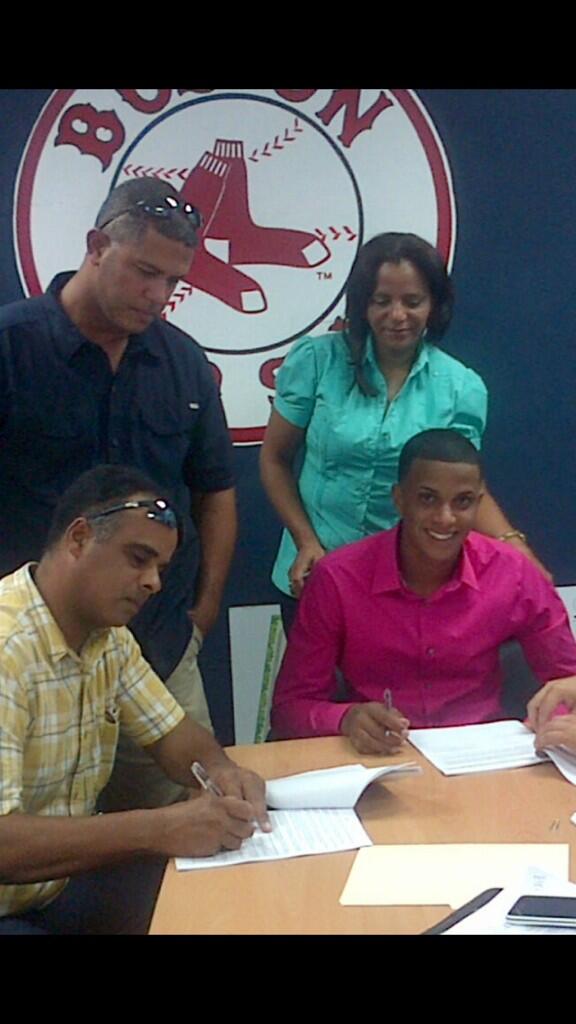 Yesterday marked the opening of the international signing period, and the Red Sox got off to a fast start with reports that they have already signed six 16 year-old players to deals.
The first player to sign yesterday was Dominican right-hander
Christopher Acosta
, as
first reported
by
MLB.com
's Jesse Sanchez, who signed for $1.5 million. Shortly after, Venezuelan
journalist Rafael Tejera reported
that Venezuelan right-hander
Anderson Espinoza
has also signed with the Red Sox for $1.8 million. Both of these pitchers were both ranked in
MLB.com
and
Baseball America
's top 11 international players, and more information can be found in
our write-up of the signings
.
Later in the day more signings rolled in, starting with Italian pitcher
Nicolò Clemente
as
first reported by
Italian writer Mario Salvini. His bonus amount was not immediately known. Later in the day there was
word from Nicaraguan journalist
Gerald Hernandez that the Red Sox have signed two Nicaraguan pitchers,
Roniel Raudez
and
Diosmar Cortez
. He also reported that Raudez's bonus was believed to be around $250,000, while Cortez got around $100,000.
Ben Badler of
Baseball America
ended the day with news
that Dominican shortstop
Elwin Tejada
has signed for a bonus of $300,000. He described the 6-foot-2 Tejada as having a "solid righthanded swing and a high baseball acumen that stands out more than his raw tools. He can play shortstop for now, though he might have to move off the position depending where he goes physically."
Because teams have been scouting these players for years, many of the top eligible prospects ink deals as soon as the signing period opens to secure their place since teams now have international bonus pools that are designed to try and limit their spending.
The Red Sox bonus pool is only $1,881,700 this signing period, but they have already spent more than $3,950,000 according to these reports. However, that will not be without consequences, since according to MLB.com the penalty for going 15+% over your bonus pool is 100% tax on the overage and also the team will not be allowed to sign any player for more than $300,000 for the next two signing periods.
Photo Credit: Christopher Acosta by @DPLBaseball
Will Woodward is a Staff Writer for SoxProspects.com. Follow him on Twitter @SPWill.