January 29, 2013 at 11:19 AM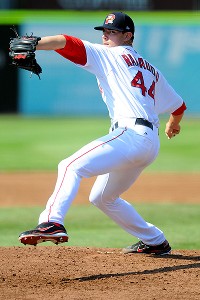 BOSTON, Mass. -- It is tough to imagine how 2012 could have gone worse for
Anthony Ranaudo
. His season started late and ended early due to injuries, and in between was nothing to write home about either. However, speaking recently at the New Stars for Young Stars fundraiser in Boston, the 23-year-old right-hander is optimistic and feeling completely healthy heading into next season.
After achieving relative success in his first season with the Red Sox in A-Ball, Ranaudo strained his groin in spring training heading into 2012 and did not make his first start until May 15. It was anything but smooth sailing once he arrived at Double-A Portland though, as he posted a 6.69 ERA in just nine starts. The former first-round pick gave up exactly as many walks as he had strikeouts, and allowed more hits than he had innings pitched. He made his final start on July 3 before being shut down with shoulder fatigue after tossing just 37 2/3 innings.
"I don't even know if frustrating is the right word," Ranaudo said. "That's just the beginning of how I felt."
Photo credit: Ken Babbitt/Four Seam/AP Photo