June 2, 2012 at 3:39 PM
As part of SoxProspects.com's annual draft coverage, we are highlighting a top local draft eligible prospect.
A product of Mansfield, MA, Rhett Wiseman has made himself into one of the most intriguing northeast draft prospects in recent memory. As a leader on and off the field for Cambridge's Buckingham Browne & Nichols High School, Wiseman hit .444 with 8 home runs 24 RBI and 26 runs scored and earned First Team Rawlings/Perfect Game All-American honors this season. In addition to staring on the baseball diamond, he spent time volunteering for youth baseball programs and being active in raising funds for cancer research.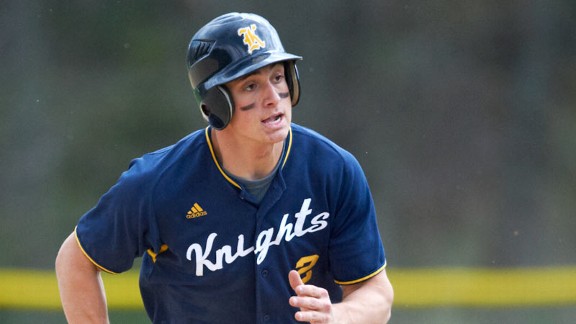 Rhett Wiseman (Buckingham Browne & Nichols)

With a strong commitment to Vanderbilt University next fall, Wiseman poses an interesting proposition for many teams looking at the talented outfielder on draft day. Drawing comparisons to former Red Sox outfielder Johnny Damon from Vanderbilt coach Tim Corbin, Wiseman prides himself on being an all-around player who uses his speed as a weapon on the base path. Fresh off of receiving Gatorade Player of the Year honors for being the best player in Massachusetts this season, Wiseman sat down with me to discuss his game, his background, and his dedication to keeping himself going over the course of a long season.
John Gray: What was it about Buckingham Browne & Nichols that made you choose to enroll and play high school baseball there?
Rhett Wiseman: I was in the Dominican Republic when I was 13 years old and I was playing for the U.S. Baseball Stars, which was an AAU team that was put together with some of the best 12- and 13-year-old players in the country. There were a couple of other teams of 14- and 15-year-old players as well. Andrew Chin, a left-handed pitcher from Newton, was on the 15-year-old team, and him and I were the only players from Massachusetts. One night we were hanging out at the beach and he was telling me all about his high school, Buckingham Browne & Nichols, and how great a place it was and how much he loved it. At the time, I was looking for a place to go to high school. I had just been accepted to Bishop Feehan in Attleboro and was all set to enroll. Andrew kept hounding me and telling me that BB&N needed an outfielder like me and that the school would be exactly what I was looking for. I made him a deal and told him that when we got back home I would go and check out BB&N and follow him around for a day to see what it was all about. A week after we got back from the Dominican, I spent a day with Andrew and just totally fell in love with BB&N and the people there. I was fortunate enough to be accepted and I haven't looked back since.

When I first told my parents about BB&N, my dad did some research on the school and found out that the athletic director and head baseball coach (Rick Foresteire) was his old college roommate who he had played baseball with at Brandeis. As you can imagine, that only made things a much better fit and helped make things easier to get accepted.
JG: How have you handled all the attention that has come to you leading up to the draft? Do you ever find it distracting?
RW: I was fortunate enough to have guys on the team last year, Andrew Chin, our shortstop Devin Perry and our catcher Alex Farkes who had brought pro attention to our games. Playing alongside of them in front of professional scouts and seeing how they handled the attention really helped me. I've been able to block the attention and pressure out and stick to playing my game. I do have to say that as more scouts showed up and the attention grew brighter and began to center around me, it was like something out of a movie. A lot of players will worry about what the scouts want to see and sort of lose themselves and start to struggle. My big thing this spring has been to just be me and play my game and soak everything in.
JG:
You've committed to Vanderbilt for college, why did you choose Vanderbilt over all of your other college options?
RW:
I committed to Vanderbilt as a 15-year-old, right after my sophomore year in high school. I wasn't able to talk to any schools before the end of my sophomore year due to the rules in place. Literally the day after I finished my sophomore year, I started hearing from schools. Vanderbilt, Georgia Tech, Boston College, University of Virginia, Clemson, and Stanford all got in touch with me and had a lot of interest. We organized a bunch of trips to go see all of the schools, starting out locally with a trip to BC and then heading down south. We visited Clemson and then Vanderbilt and fortunately I never got past the trip to Vanderbilt. During my visit, I worked out for them at a camp and just knew it was the right place to be and committed that weekend.
JG:
I've seen it reported that you are close friends with Tyler Beede, who passed on signing with the Blue Jays last year in order to attend Vanderbilt. Have you ever had the chance to face off with Tyler in competition and does the thought of being teammates with him entice you to play even more for Vanderbilt?
RW:
When I made my decision Tyler had already committed to Vanderbilt and was done with his junior year. As you know, the buzz around the state was all around Tyler as the superstar pitching prospect in the northeast. Lawrence Academy is in our league (ISL-Independent School League) so I had the opportunity to square off against him. Due to the nature of how competitive our league is, everyone has respect for each other. Due to our passion for baseball and the respect we had for each other on the field, we began a pretty close friendship. Tyler is a great guy and he took me under his wing a bit and told me how he wanted me to join him at Vanderbilt. Everything he told me about Vanderbilt rang true and I give him a ton of credit for helping lead me to make a very important decision. Having the chance to now be teammates is a dream and something that I believe has only strengthened our friendship. Tyler's a guy I looked up to for the way he handled the professional spotlight flawlessly and always went out and played hard-nosed and the way he wanted to pla
y.
Rhett Wiseman (BB&N)
JG: What are your thoughts on your status leading into the draft? Are there certain teams that have had greater interest in you than others? Do you know what it would take for you to forego your college commitment?
RW: With the type of future I have at Vanderbilt, there is always the stigma of the "tough-sign" Vanderbilt commitment that I have to face. Going along with that stigma is the price tag that would have to be met and I understand that certain teams will not want to take that risk. With the changes to the draft this year, teams aren't going to be able to throw money around to get someone out of a strong commitment so it really changes how things might turn out on draft day. However, when I look towards next week there are certainly a lot of emotions and it will be an exciting experience. I am blessed to have two great options, Vanderbilt and hopefully being taken early in the draft. Being taken early is probably the only way I could consider turning pro right now as the changes in the draft have really changed the ballgame. I am really looking forward to seeing what happens and it opens up a new and exciting challenge. My family and I have had some really great discussions on the possibilities in front of us and we are on the edge of our seats waiting to see what's next.


JG: You just were awarded the Gatorade Player of the Year award as the best player in Massachusetts and are now a finalist for the national award. How did you feel to receive this honor?
RW: The award was one of the biggest honors I have ever received. It's a very humbling honor knowing that I have been recognized not only for my contributions on the field, but off the field as well. What I do off the field is very special to me and for people to take notice of that is truly touching to me. Where a lot of awards focus on your tools, your stats or your upside, the Gatorade Player of the Year award focuses on the person that you are as well. I'm still in shock that I won the award, I don't think that is has really sunk in yet.

JG: Off the field you have been very active in volunteering your time and trying to raise funds for cancer research. How do you choose what causes to be a part of and why?
RW: Honestly, a big part of why I am the way I am with giving back is the school I go to, BB&N. As a 14-year-old freshman, I was coming out of Mansfield public schools to a brand new school where I knew nobody and didn't know what to expect. They welcomed me with open arms and I was absolutely floored with how nice everybody was and how they took me under their wings. Just talking about this today still shocks me that going into a foreign high school environment can be so amazing. You hear all the negativity about high school life, bullying, etc. Going into the school and being treated well as the new person really opened the doors to me wanting to be like the rest of the community. BB&N is all about bettering yourself in the classroom and outside of the classroom. There are so many community service opportunities that the school encourages that allow you to better yourself and give back. I can't say enough about the school, the way we are as a student body and how well rounded everyone at BB&N is because of our focus on giving back and being a wonderful person.

JG: While you are regarded as an all-around player on the field, what would you say are your best assets on the diamond?
RW: My best asset is actually a newly developed one, my speed. I've had my speed come and go as I've grown. As a 14- and 15-year-old, I was fast but then I grew 3.5 inches between my age 15 and age 16 seasons and I lost a step. I eventually grew into my body, gained a lot of muscle in my legs and my speed returned. Once I really honed my quickness, it opened up my game and changed the type of player that I was. I was more of a corner outfielder and I gained more range and found a home as a center fielder. On the base paths, it made stealing bases like taking candy from a baby. Being able to know that when I stroke a single or take a walk that I can be on third base two pitches later is such an amazing tool to have. Being a menace on the bases allows you to help the team by getting into a pitcher's head and making him second guess whether he should throw over or not.

JG: If you could credit one person with your development on and off the field who would it be?
RW: That's a tough question; I have such a great support system and so many wonderful people in my life. One person who I spend a lot of time with and who I have to give a ton of credit to is my father. I am so lucky that both of my parents have given me so much and supported me in pursing my dreams. One of those dreams was going to BB&N. I would not be the person I am today or the player I am today without the experience of being at such an amazing school. You don't go far without being well rounded. Having the baseball skills is one thing, but being able to talk to people and handle different situations is another. My dad has always been there to help me developmentally, whether that's hitting fungos to me late into the night or throwing batting practice to me or hitting grounders in the morning before school. Whether I've needed work on my crow-hop or tracking the ball in the outfield from the time I was 10 until today, he's always been there. I'm always able to go to him whether I am struggling at the plate or just need someone to talk to.
Rhett Wiseman (BB&N)
JG:

How do you approach an at-bat? What are some things you look for in the box that have made you have such great success?

RW:

My aggressiveness is something that I feel has made me very successful at the plate. Before I step in to the box, I am thinking of my approach at the plate and what I am planning on doing against the pitcher on the mound. Seeing what his fastball looks like, what his off-speed stuff looks like and how he is trying to attack me as a hitter. My goal for every at-bat is to hit the ball hard. Getting into a hitter's count and working the pitcher certainly allows you to do that. Being able to pounce on your pitch will allow you to hit the ball hard somewhere. One of my favorite parts of the game is being able to rope the first pitch of an at-bat or take a second pitch changeup and drop it into the gap.

JG: How do you keep yourself going over the course of a long season? Especially one with a lot of travel and a lot of intense competition?
RW: Taking care of my body is something that keeps me going physically and mentally. When my body feels good, I am up for anything. I can play a doubleheader; I can play as many games as you will give me. If your body feels good, then your mind feels good as well and you perform at a higher level. I have taken the initiative by getting deep tissue massages, having a nutritionist, taking heat baths and cold baths with Epsom salts. The little things like stretching correctly and taking care of your muscles make you feel good and perform day in and day out. Putting only good foods into your body and treating it like the temple it is definitely has a major impact. Staying away from junk food and fueling your body with organic foods is something we all hear about, but actually practicing it meticulously will allow you to see how your body responds. When I feel good and my body is healthy, I can't wait to get to the park every day.

JG: You've spent a lot of time at the RBI Academy in Foxboro. Have you ever had a chance to get pointers from professional players and how has the RBI Academy helped you to develop into the player you are today?
RW: Paul Rapoli the owner of RBI is actually my hitting coach. Mr. Rapoli has been there for me every step of the way and been such an incredible factor in my career. Paul is a guy that I can call when I have a good game or that I can call at midnight to get pointers on my swing. He's brought in so many people to work with me and help me progress. I've been able to hit alongside Nomar Garciaparra and Lou Merloni. The way that Paul opened his doors to me at RBI and has taken me under his tutelage has really made me the player that I am today. Being able to have that comfort level to show up at RBI and work on anything at any time has been extremely special.

Let me tell you, hitting with Nomar was absolutely amazing. Here is a guy that had a Hall of Fame career in the works before injuries cut him down. In my opinion, he was one of the best pure hitters baseball has ever seen. When you talk baseball with a guy like Nomar, you can see how guys like him really live and breathe the game. Talking to someone on Nomar's level is a lot different than talking to your friend or teammate about baseball. You can literally sit there and talk about one specific part of the game for days. Something as simple as staying inside the ball when you're trying to go to the opposite field is a conversation you can have for an entire evening. By the end of those type of conversations, you have learned so much and you want to keep it going and get out there and put the advice to work.

JG: If you could think of your favorite baseball moment, what would it be and why?
RW: I have been so fortunate to have so many great baseball moments. I've gotten to play in the Area Code games and the AFLAC All-American game, but my favorite moment would have to be the last game of my sophomore year of high school. We were squaring off against our rivals, Belmont Hill, being 22-0. A win would make us the first team in Massachusetts history and in our league to go undefeated at 23-0. We ended up winning that game 3-2 and dog piled at the end in celebration. Playing with some of my best friends and reflecting on all the hard work we put in that season was truly amazing. Going undefeated in a game where one bad hop or one bad call can change everything was something I will never forget.
John Gray is a Senior Staff Writer for SoxProspects.com. Follow him on Twitter @JohnRGray.